Corporal
Giladi Benjamin

Beni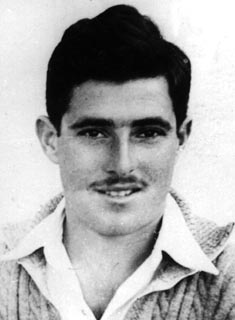 Son of
Ayala and Meshulam
Born in Jerusalem, Israel
On 19/12/1928
Drafted on 1/1946
Served
in Palmach
In The Fifth Battalion "Sha'ar Hagai", The Third Battalion, Tet Company, Harel Brigade
In Hachsharat Kffar-Gila'adi
Role:
Squad commander
Killed In Battle in Operation "Yoram"
In The War Of Independence
On 9/6/1948
In:
Latrun
Buried in Jerusalem – Mount Herzl
Was 20 years old
Photo Album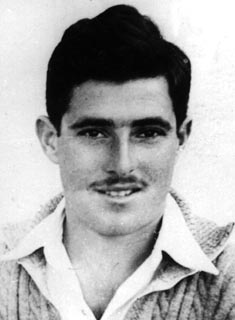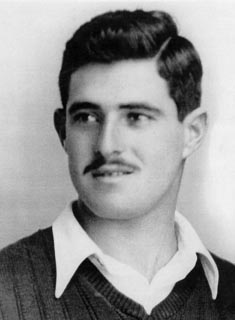 גלעדי בנימין ז"ל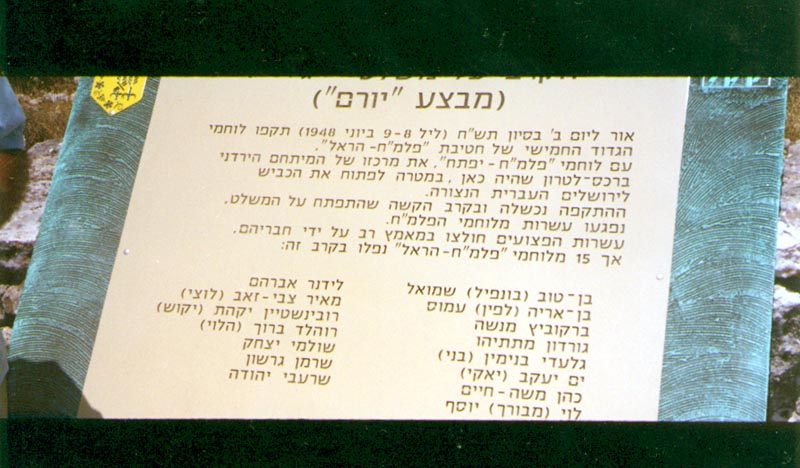 מצבה לזכר הנופלים במבצע 'יורם'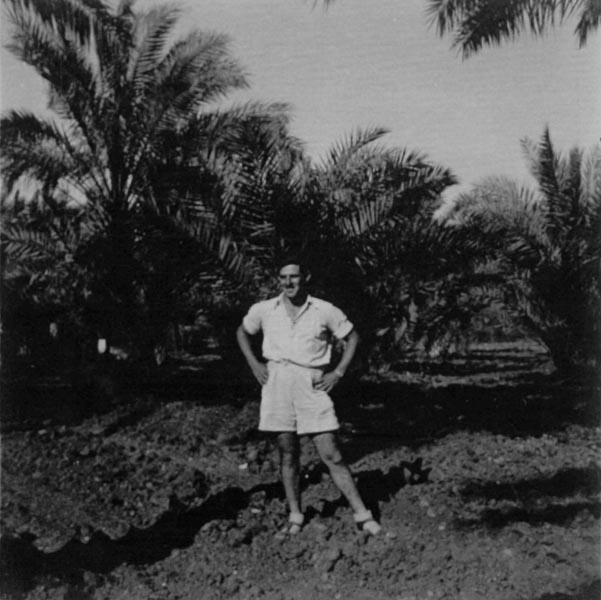 בניה בפלמ"ח בקבוצת כנרת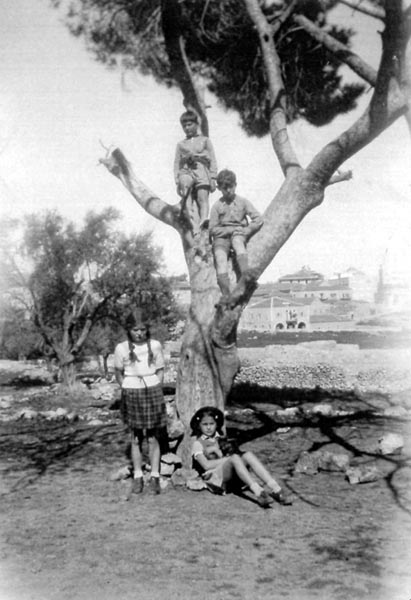 בנימין גלעדי (בניה) - ילד בירושלים יושב על העץ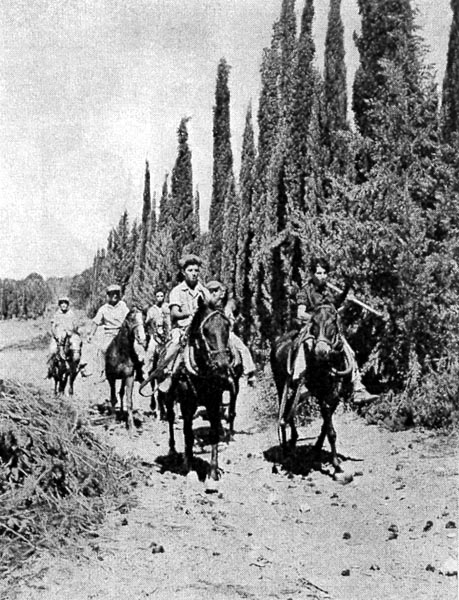 בניה על סוסו במקוה ישראל (ראשון משמאל)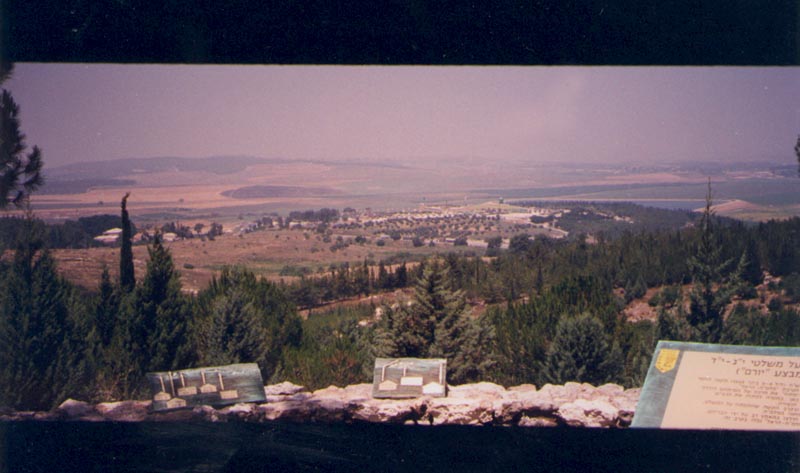 נקודת התצפית, שהוקמה על ידי הקרן הקיימת במלאת 50 שנה לנפילתם 1998
רשימות לזכרו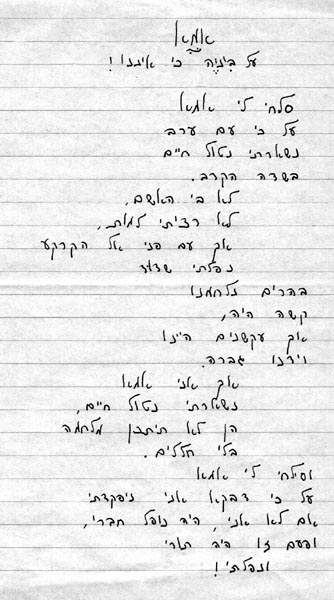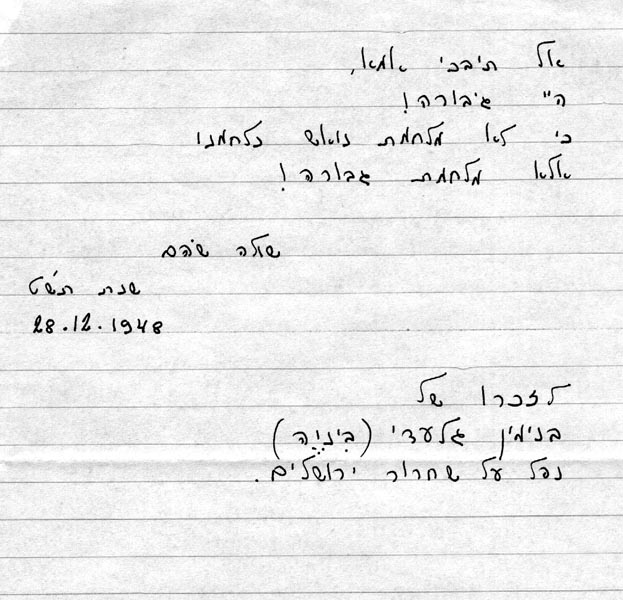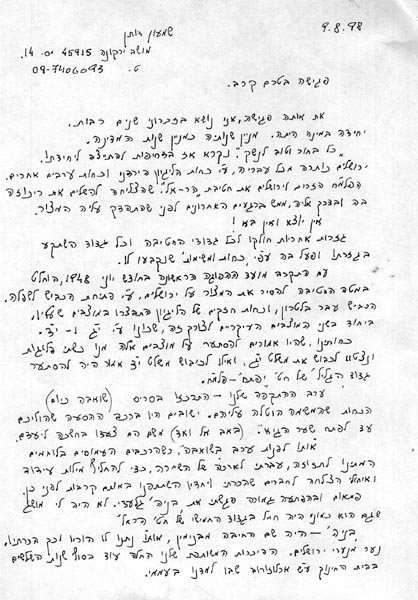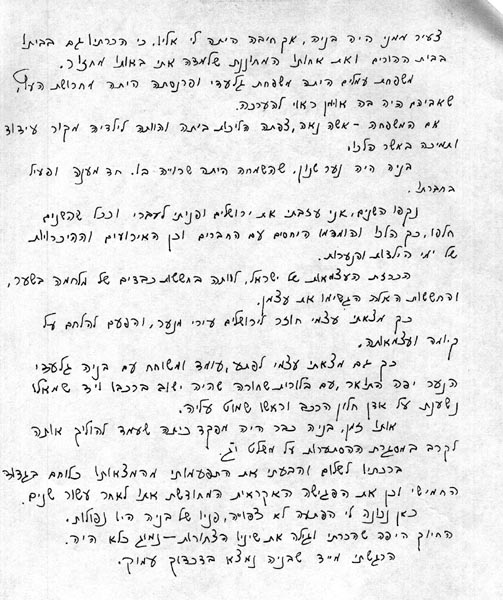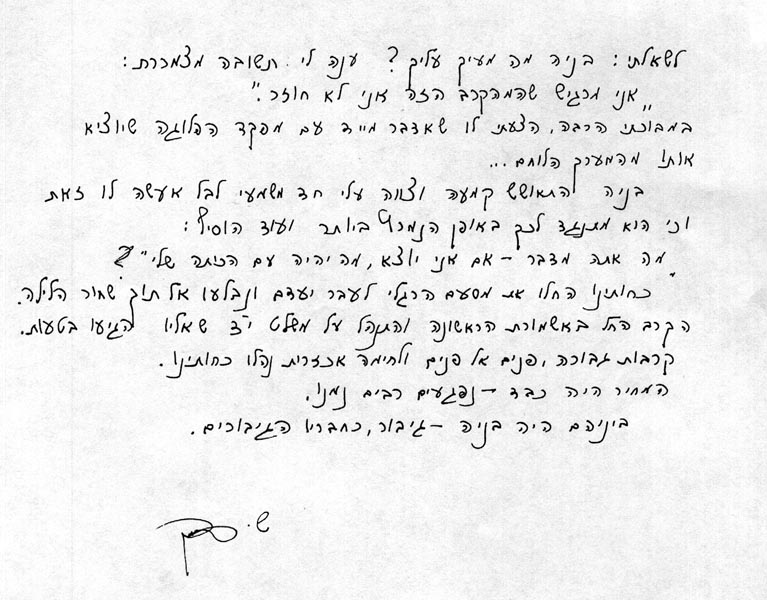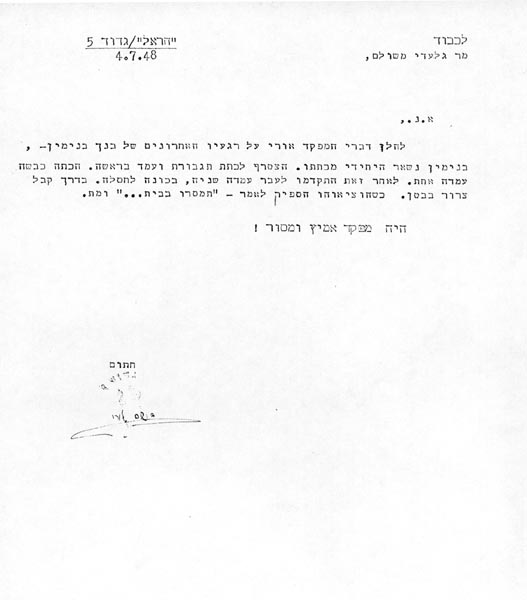 רשימות לזכרו
ההודעה על נפילתו
בהפוגה הראשונה בחודש יוני 1948, אחי, יצחק יצחקי ז"ל, חזר מפעולה בלטרון וביקש שאתלווה אליו ואל חברו שיבדל לחיים ארוכים, אריה קוזיק לביתו של מפקדו בני גלעדי ז"ל שנפל בקרב בלטרון. אחי ז"ל נפצע באותו קרב בצורה קלה, אחי היה צריך למסור למשפחה את הבשורה המרה. כאשר הגענו לבית, האמא ישבה ואמרה לאחי "אני כבר יודעת מה בפיך - אני חלמתי שבני נהרג" והיא תיארה בפרטי פרטים היכן ואפוא הוא נפגע - ליד עץ -בבטן וכו'. אני הזדעזעתי ויצאתי והתישבתי במדרגות ואחי אמר לי "זה לא יאומן איך היא מתארת במדויק את מה שקרה" לצערי, כעבור שלושה שבועות אחי ז"ל נהרג בזמן הצגת הפייט בסרפנד. ב-1973 שכבתי בבית חולים הדסה לחדר הזה נדמה לי, שגב' גלעדי באה לביקור ואני זיהיתי אותה ובקשתי שתתקרב אלי. אמרתי לה "לעולם לא אשכח את היום בו הודענו על מותו של בני גלעדי ז"ל ועל החלום והתיאור שלך" היא סיפרה לי, שאף אחד לא מאמין לה וקראה לידידה או קרובת משפחה, שהיתה בקרבתה ואמרה עכשיו כולם יאמינו לי, הנה העדות על החלום המר.

אריה קוזיק, כיום בעלי, מסר לאם את המדליה שקיבל על כיבוש קטמון כי בני היה המפקד ולא זכה לקבל את המדליה... "בני גלעדי היה המפקד שלי ונתן לי פקודה להיות בתצפית בגג שבמנזר סן סימון ושם הוא פקד שאשכב מתחת למזרון ששימש הגנה נגד כדורים ונדווח על תנועת האויב כאשר הכדורים שורקים מכל עבר."
. . .

שלום, שושנה קוזיק.