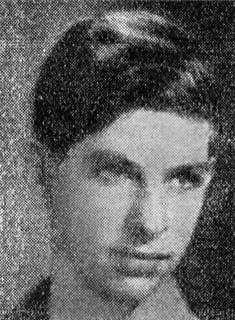 Son of
Liza and Theodore-Jonathan
Born in Germany
On 9/2/1929
Immigrated on ספטמבר 1933
Drafted on 1947
Served
in Palmach
In The "Lamed-Hay" Platoon, The Sixth Battalion -"Jerusalem", Harel Brigade
Role:
Fighter
Killed In Battle in The "Lamed-Hay" platoon ("The Thirty-Five") on their way to Gush-Etzion
In The War Of Independence
On 16/1/1948
In:
Alongside Surif Village
Buried in Jerusalem – Mount Herzl
Was 18 years old
Photo Album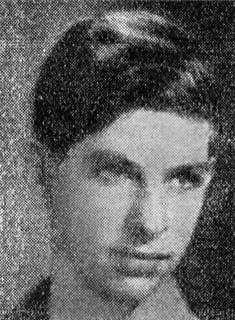 רשימות לזכרו
מפי אחותו
ילד מלא חן ואהוב על כולם (כי אכן היה ילד עדיין, אף לפי שנותיו לא היה מבוגר). כרוך אחרי משחק השחמט, להוט אחרי מוסיקה, קלאסית ומודרנית. גבוה, יפה-תואר ובעל נימוסים נאים. מאותם האנשים שחייהם לפניהם בלי מכשולים, כי הכל ממהרים לעזור להם, להקל עליהם.
כשנה לפני מותו גמר את בית הספר התיכון, ואת שנת השירות שלו עשה במשטרת הישובים העברים. במשך השנה החל להתעניין בתנאי הכניסה לאוניברסיטה בשוויץ או בצרפת והקדיש את זמנו הפוי ללימוד השפה הצרפתית. חשב ללמוד רפואה ולהיות רופא-מנתח כאביו לפניו (ידיו ואצבעותיו היו זריזות להפליא). שכפרצו המאורעות ביטל מיד את תכנית הנסיעה לחו"ל ונרשם כתלמיד באוניברסיטה העברית בירושלים. אמר ללמוד, תוך כדי שירות, מדעים המכינים לרפואה, אך ימים מעטים טעם את טעמם של חיי הסטודנטים, עסק יומם ולילה בקריאה, בהכנת השיעורים החדשים. ולאחר מכן גילה אותה התלהבות עצמה בפעולתו בהגנה ועשה ימים ולילות בעמדות ירושלים ופרבריה. אכן גם בימים אלה היה רץ, בבואו הביתה, למזוה לראות אם אמא הכינה לו שוקולדה. ילד גדול היה עד יומו האחרון.
רשימות לזכרו
מפי אחיו
בן זקונים היה להורי, מפונק, כולנו פינקנוהו. כשהיה בן עשר מת עלינו אבינו ומאז נתקשר עוד יותר אל אמא. הזיקה לנוחיות היתה טבועה בנפשו ועל כן רכש לו בקשיים מסויימים מעמד 'ככל בני האדם'. הוא היה 'חיימקה' של אמא. תמיד חביב על כולם, נקי ומצוחצח, מכין את שיעוריו בהתמדה ובשקידה. אם כי לא היה מהיר תפיסה, התגבר מיד על כל הקשיים, מתוך רצון וכוונה. כל מוריו שיבחו אותו. מזלו גרם, כי תמיד נקלע לחברה מבוגרת ממנו ותמיד היה ה'קטן'. גם בתנועת הנוער, שהיתה גורם חשוב בהתפתחותו. בקבוצת הצופים היה הצעיר, אף קיבל קבוצה להדרכה בגיל צעיר מדי, אם כי ניהל אותה יפה, לאחר הכנות רבות כמו לשיעור. אכן כל תפקיד שקיבל על עצמו מילא בשלמות, על אף הקשיים. גם שנת השירות הקדימה לבוא. הוא החליט בנפשו ללמוד רפואה והתכונן בכל מרצו לנסוע לשם כך לחו"ל. בחר בנוטרות כדי להשתכר, למד צרפתית. ההחלטה לא באה לו בנקל, לא קל לילד ארץ-ישראלי מפונק לנסוע לבדו אל בלתי-נודע, אך משהחליט היתה כל דעתו נתונה לביצוע ההחלטה. הוא לא היה 'צברא' טיפוסי: מאז לקחוהו הוריו לטיול לחו"ל זכר את אירופה ולא הסתגר ב'ארץ-ישראליות' מכוונת.
בין שירות לשירות היה בא הביתה ומיד יושב ללמוד או לקרוא . למעשה היה ילד שטרם התבגר. הוא אך התכונן לחיים, התכונן לכך ברצינות יתירה. לא היה איש צבא ברוחו, כל התמודדות פיסית היתה ממנו והלאה. ילדותי היה למרות גבהו. הוא היה 'ילד נחמד' טיפוסי גם בצאתו לדרכו האחרונה, והוא בן שמונה-עשרה שנה.
בעזבו את הבית בערב האחרון החליף את השמיכה הטובה שהיתה עמו בישנה, 'שלא ללכלך אותה'. כלום לא ידע או שיער מה מסוכנת הדרך שלפניו?