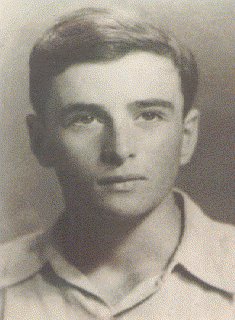 Born in Berlin, Germany
On 2/9/1930
Immigrated on 1932
Drafted on 1947
Served
in Palmach
In The Sixth Battalion -"Jerusalem", Hait Company, Harel Brigade
Role:
Fighter
Killed In Battle in Escorting a convoy
In The War Of Independence
On 27/3/1948
In:
Nabi Daniel
Buried in Jerusalem – Mount Herzl
Was 18 years old
Photo Album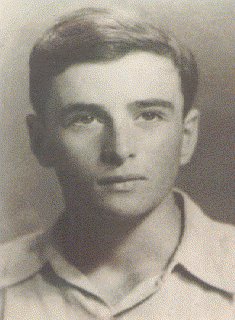 רשימות לזכרו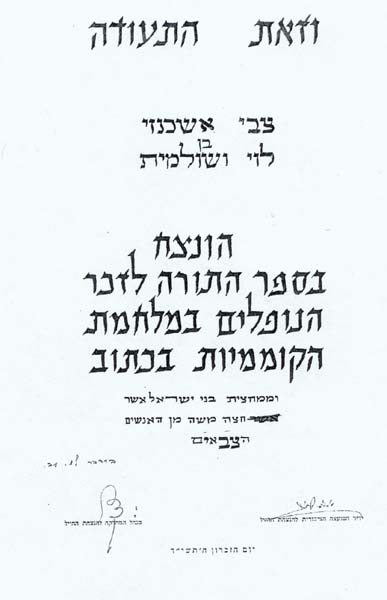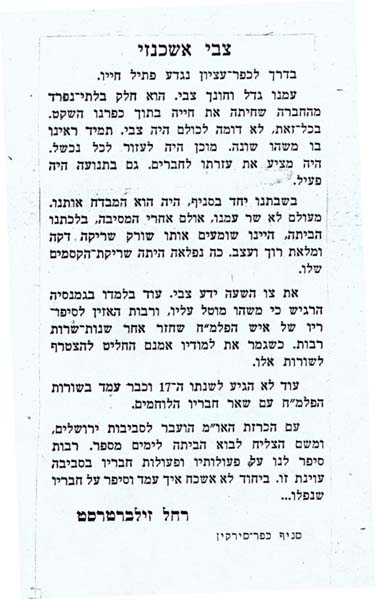 רשימות לזכרו
מדברי אב שכול
לפני עשרים וכמה שנים בעלותי ארצה הזהירו אותי שהארץ דורשת קרבנות.
את המצוה, שאני לא קיימתי בנפשי קים בני צבי! איש גבור של ידע כניעה מהי
הוא את הנפש נתן, את נפשו הקריב על מזבח האומה. יש אנשי מעלה שהם מעטים הזוכים לדרגה עילאית אשריו שזכה לכך.
לוי אשכנזי.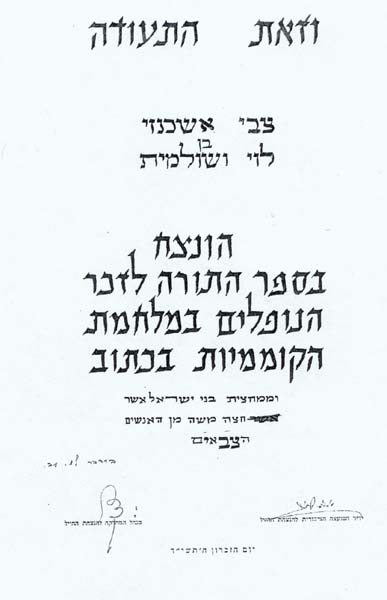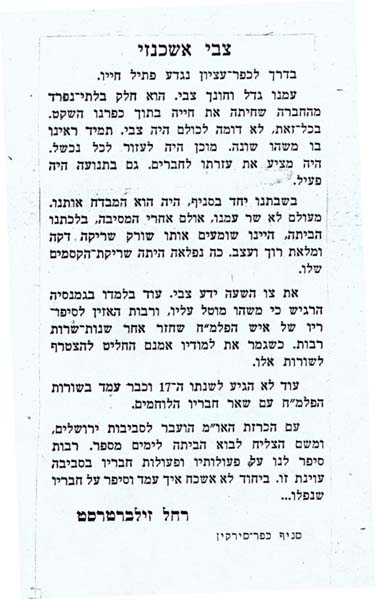 רשימות לזכרו
מדברי משה אטלס
"עד היום קשה להשלים עם הרעיון שצבי איננו! מהגן ביה"ס, גימנסית אחד העם בפ"ת עד היותו למבוגר יום התגיסותו לפלמ"ח. הנה פרשת חיו הקצרים, רק אתמול קפץ מכיתה לכיתה הנה הוא הולך ביום גשם ילד חסון קומה גבוהה פנים אדומים מלאים חיים מצח גבוה אצילי עם פינות חדות תורשת משפחתית.
במכנסים קצרים, נראים שוקיים אדומים וחסונים בעוז ובמרץ משרך בבוץ. רץ הכפר סוחב את התיק עם הספרים בלי לאות בגשם השוטף - כולו אומר אמץ ובטחון
צבי הבן יחיד יקיר להורים חברי הכפר. בישן בטבעו.. עקשן לכל דבר. רצון כביר לאמונה חזקה בכוחותיך. צבי, שמך על שם סבך ז"ל חיים צבי אשכנזי אב"ד. לא רק השם ירשת מסבך אלא ההתמסרות. האני מאמין החזק! האהבה הגדולה להעם והקנאות בלי גבול להארץ ולגאולת ישראל.
זכורה לי השיחה האחרונה איתך: רציתי להשפיע עליך, היות שעודך צעיר, עוד לא חיב גיוס אולי כדאי שתדחה התגיסותך לפלמ"ח ואולי תשאר בכפר הפעולות הגנה. כי ידעתי צער הוריך! ואתה, צבי, בעוז ובתבונה הסברת לי, שעלינו לחנך את ההורים כי לא רק להם הילדים - הם שייכים להעם! ועליהם למלאות מצוות העם בלי חשבונות פרטיים שלהם ושל ההורים. בפרט כשהעם בסכנה. איזה ערך יש לצער הורים! נדהמתי ונסתמו כל טענותי התבישתי בפניך צבי! אני הזקן ואתה הצעיר ! אשרי העם שככה לו! מבורכים ההורים שחינכו אותך אשרי צור מחצבתך ממנו ינקת וגדלת והיית לבן חייל!!
איכה נפלו גיבורים כואב הלב גדול הצער בך בחר הגורל
קם העם באה הגאולה - קמה המדינה וישראל סבא עלם חמד צבא הגנה לישראל, הגבולות מדן ועד באר שבע והלאה - ואתה צבי לא זכית לכל זה !
אמנם, יש שלומים ונחומים, אבל כואב הלב וקשה להשלים למה גם אתה! עודך צעיר ורך בשנים אפילו לא חייב גיוס!!
שמך ודמותך לא ימוש מקרבנו לעדי עד
משה אטלס כפר סירקין